Timeline
September 16, 1907
Birth of Ivan Keywan, son of Mykola Keywan, a housebuilder and musician, and Kalyna Ilashchuk, in the village of Karliv (now called Prutivka) in the Pokuttia region of Western Ukraine, now part of the Ivano-Frankivsk oblast, Ukraine.  Oldest of five surviving children; younger siblings were Vasyl, Maria (Mariyka), Anna (Hanusia) and Volodymyr.
---
1919
After completing the Karliv village school, entered the Kolomea Ukrainian Gymnasium (high school). Began to paint, decorated classrooms and offices, produced satirical caricatures of teachers. Graduated in 1927.
---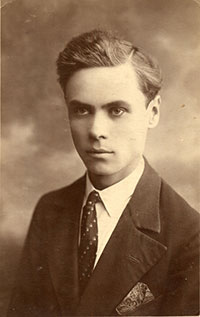 1927–28
Studied at the Oleksa Novakivsky Art School in Lviv. Continued studies at the Academy of Art in Krakow, Poland.
---
1929
In March, arrested by Polish police on suspicion of anti-Polish activity; was charged with treason and disturbance of the peace for reciting an "anti-Polish" poem during a "Prosvita" Christmas concert in Karliv; held in Kolomea prison without trial for several weeks; began a hunger strike to demand due process; later was moved to the "Brygidky" prison in Lviv. Tried after seven months of imprisonment; released in October. While in prison, started learning the "universal language," Esperanto. Passed the official Esperanto exam in 1932.
---
1932
Entered the Academy of Art in Warsaw, Poland, from which he graduated in 1937. Studied painting, graphics and engraving techniques. Won numerous "first prizes" for best graphic work.
While studying at the Academy, also took courses in art and art history at Warsaw University. Was a member of the Ukrainian Artists Group "Spokiy".
---
1933
Began exhibiting portraits and landscapes, producing graphic designs for books, and publishing articles in the press on art and art history. Arrested again by the Polish police for Ukrainian nationalist activities (membership in the Organization of Ukrainian Nationalists (OUN)); charged with "counterfeiting" for his design of banknotes for an independent Ukrainian state; held in prison in Kolomea and Sniatyn; after three months, was tried and found not guilty. The banknote designs, executed in the Ukrainian Baroque style, were confiscated.
---
1936
Did an art tour of western Europe as part of a group of students from the Warsaw Academy of Art.
---
1939
Passed the pedagogical examination qualifying him to teach art in high schools and technical schools.
---
September 1939
Outbreak of World War II; German invasion of Poland; under the terms of the Molotov–Ribbentrop Pact, annexation by the Soviet Union of Western Ukrainian territory that had been part of Poland. Was in Karliv, visiting parents, when Soviet occupation troops arrived.
---
1939–41
Worked as director of the art bureau established by the Soviets in Sniatyn. Was obliged to report weekly to the NKVD and produce paintings of Stalin and other Soviet officials. Worked briefly as a high school teacher. Later worked as designer for the Sniatyn theatre; designed and painted sets; designed posters and costumes for plays and operas; occasionally acted on the stage. Also carried out commissions for portraits and design work. In June 1941, when the Germans invaded Soviet-occupied Ukraine, hid out in the village for two weeks to avoid arrest by the Soviets, who were conducting mass executions as they retreated.
---
1941
Began teaching art and art history at the Ukrainian Gymnasium; also taught at the Kolomea Technical School. Elected member of the Ukrainian Artists Association (USOM). Produced many portraits, including those of writers Taras Shevchenko, Ivan Franko, Markian Shashkevych, Marko Cheremshyna, Vasyl Stefanyk and Dmytro Nykolyshyn, composers Mykola Lysenko, Vasyl Barvinksy, Mykola Kolessa and B. Kudryk; and Ukrainian hetmans. Also executed stage designs.
---
July 1942
During Nazi occupation of Western Ukraine, arrested by the Gestapo along with other members of the local intelligentsia (40 persons) and held as hostage during a visit by Nazi officials to Kolomea. As no incident occurred, they were later released.
---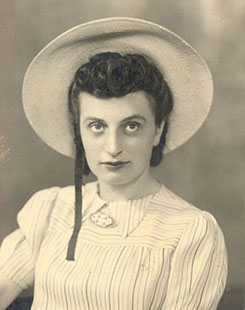 September 14, 1943
Married Maria Adriana Krupska, daughter of Pavlo Krupsky and Eva Samailovych, both teachers. Pavlo Krupsky, former principal of the school in Lubkivtsi,  was at this time secretary of the Kolomea Gymnasium. Maria was a medical doctor, trained at Poznan University in Poland, who was working at the Kolomea Hospital.
Worked as graphic designer for books.
---
March 1944
With his wife, fled to Western Europe to escape the second Soviet occupation. Stayed for a time in Marienbad (now Mariánské Lázne, Czech Republic), where Maria worked in a pediatric hospital.
---
December 1944
Son Orest born in Marienbad.
---
1946
Moved with other refugees to displaced persons (DP) camps in Bayreuth, Füssen and later Mittenwald, Bavaria, West Germany. The camps were operated by the United Nations Relief and Rehabilitation Administration (UNRRA). Taught art and art history at the Mittenwald camp school and other institutions, continued producing art works, including portraits, a cycle of Alpine landscapes and graphic works. Was active in the Ukrainian Artists Association (USOM), headquartered in Munich, and took part in exhibitions in West Germany, Paris and Amsterdam.
---
1947
Exhibited at the "Independent Artists Salon" in Paris and won first prize for graphic work. Founded and headed the Association of Ukrainian Writers, Artists and Scholars in Mittenwald.
---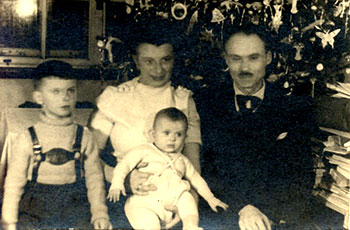 July 1948
Daughter Sofia Oksana (Zonia) born in Mittenwald
---
November 1949
Sailed to Canada with wife and children; settled in Edmonton, Alberta, where the family was sponsored by Vasyl Semotiuk, a native of Karliv, who had emigrated to Canada several decades earlier.
---
Early 1950s
Did freelance commercial art work, worked on commissions for church painting in Calmar, Smoky Lake and other places in Alberta. Began work as a sign painter at C-I-L (Canadian Industries Limited), where he remained until retirement.
---
From 1950s onward
Authored countless articles and reviews in Ukrainian newspapers and journals in Canada and the US on art and art history subjects, but also occasionally on other topics. Contributed to and wrote books and monographs on various artists, delivered lectures, opened exhibitions. Was active in Ukrainian organizations.
---
1956–57
Was a founding member of the Association of Ukrainian Artists of Alberta (SUOMA); was one of three co–founders (with Mykhailo Dmytrenko and Bohdan Stebelsky) of the Ukrainian Artists Association (USOM)  in Canada.
---
1957
Publication of monograph "Volodymyr Sichynsky" (in Ukrainian), Toronto.
---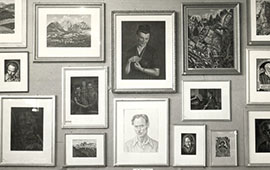 From 1957 onward
Participated in USOM exhibitions in 1957, 1959, 1960 and 1961, and in other exhibitions in Edmonton, Saskatoon, Winnipeg, Toronto, Montreal, Detroit and New York; was instrumental in organizing exhibitions of local and other Ukrainian artists.
---
1958–62
Taught Ukrainian art history at the Ivan Franko School of Ukrainian Studies in Edmonton.
---
1959
To commemorate the 250th anniversary of the death of Hetman Ivan Mazepa, executed a compositional portrait of this important Ukrainian historical figure.
---
1961–64
Produced several portraits of Taras Shevchenko (1814–1861) to mark the 150th anniversary of the poet–artist's birth and 100th anniversary of his death.
---
1962
Began research and writing of a two–volume history of Ukrainian art, which would take 20 years to complete.
---
1964
Publication of his monograph Taras Shevchenko, the Artist (in Ukrainian), Winnipeg, 1964. For this work, was awarded the Shevchenko Medal, the highest form of recognition granted by the Ukrainian Canadian Congress.
---
1966
Publication of his monograph "Dmytro Antonovych" (in Ukrainian), Chicago.
---
1967
Appointed, by Ukrainian Catholic Patriarch Cardinal Josyf Slipy, professor of art history at the Ukrainian Catholic University in Rome. Was unable to fulfill his duties due to ill health (onset of deafness), so the appointment remained an honorary one.
---
1968
Publication of his monograph "Vasyl Krychevsky, Creator of the Ukrainian National Style" (in Ukrainian), Rome.
---
1973–74
Served as head of USOM for Canada; was deputy head several times.
---
1976
Named full member of the Shevchenko Scientific Society (NTSh), Ukrainian history section.
---
1979
Special evening organized on November 24 by NTSh in Edmonton to mark 50 years of Ivan Keywan's creative work.
---
1980s onward
Opened numerous exhibitions in Edmonton by artists of Ukrainian origin from Canada and around the world and wrote reviews of their work.
---
1982
Participated in the Ukrainian Artists International Exhibit held in Toronto.
---
1992
Died in Edmonton on September 18 at the age of 85.
---
1996
Posthumous publication of one section of his two-volume history of Ukrainian art: Ukrainian Artists outside Ukraine.