The Works of Ivan Keywan

Ivan Keywan's art covers a range of subjects executed in different media: pencil, oil, water colour, tempera, ink and scratchboard. The works include portraits, landscapes, historical portraits and commemorative works, as well as graphic designs, including book covers, documents, certificates, ex-libiris, stamps and other. The artist's paintings are marked by a stylized realism and his graphic works are characterized by extraordinary precision and minute detailing.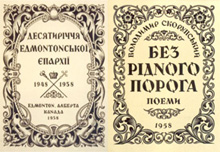 From his student days, Keywan exhibited outstanding drawing and design abilities. Referring to his skill in hand lettering and decoration, his teachers declared that in his technique, he could "compete with machine production." His graphic skills gave rise to legends among those who knew him: it was said that "if Keywan needs money, he just reproduces a banknote by hand and takes it to a store or a bank. It is so accurate that nobody can tell the difference."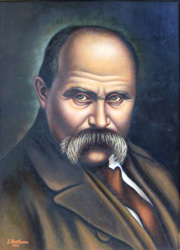 Keywan's work spans a period of six decades. Of his earliest works, not many remain. A few paintings executed in the 1930s and early 1940s are found in private collections and museums in the Kolomea/Sniatyn/Ivano-Frankivsk region of Ukraine. They include an oil portrait of Taras Shevchenko, now in the Kolomea Museum of Hutsul and Pokuttia Folk Art, a portrait of Markian Shashkevych in the Marko Cheremshyna Museum in Snaityn, Ukraine, a pencil portrait of his sister Mariyka, in the private collection of her son, Volodymyr Semotyuk, in Lviv (one of a set of four drawings of his siblings produced at the same time; the other three are lost); an oil portrait of his wife, Maria, now in the private collection of Hanna Movchan in Kolomea, and several other works in the private collections of Mykola Keywan, Iryna Moskalenko and others in Ukraine.
Of the works produced by Keywan at the end of the war in Marienbad (now Mariánské Lázne, Czech Republic), and after the war in Mittenwald, Germany, a number are found in the private collections of his daughter Zonia in Canada, his son Orest in Australia, and others, including a pencil portrait of his wife, oil portraits of his wife and family, pencil and scratchboard self-portraits and tempera landscapes.
In Canada, despite having to hold down a job to support his family, Keywan continued his creative work. Shortly after his arrival in Alberta, he executed a number of church commissions. These include an oil painting of Abraham's Sacrifice of Isaac, 1950; St. Stephen, 1950; Exaltation of the Holy Cross,1951; Last Supper, 1951; Descent of the Holy Spirit at Pentecost as an altarpiece for a church in Calmar, Alberta, 1952; and the painting of decorations, including an eye of God, on the ceiling and walls of St. Onuphrius Ukrainian Catholic Church in Smoky Lake, Alberta in 1952. St. Onuphrius Church, with Keywan's decorations, was moved in 1996 to the Museum of Civilization in the National Capital Region, where it now stands, reconstructed, in Phase II of the Canada Hall. In 1960, he executed a large oil painting of St. George killing a dragon as an altarpiece for his own parish church, St. George Ukrainian Catholic Church in Edmonton.
During the 1950s and 60s, Keywan produced a series of portraits of his friends and acquaintances and notable figures in the diaspora Ukrainian community. These included a pencil portrait of Yuriy Stefanyk, son of the writer Vasyl Stefanyk, who also lived in Edmonton (this work now hangs in the Stefanyk museum in Rusiv, Ukraine); a pencil portrait of the poet Volodymyr Skorupsky; a scratchboard portrait of the eminent Ukrainian writer, Todos Osmachka (1952), and a pencil self-portrait (1953). He also executed a series of historical works to mark important anniversaries in Ukrainian cultural and political history, focusing in particular on the Cossack Hetman Ivan Mazepa and poet/artist Taras Shevchenko. The scratchboard portrait of Mazepa, produced in the form of a medallion surrounded by the symbols and attributes of the hetman and his office, including Mazepa's coat of arms, is executed with Keywan's characteristic technical expertise and meticulous detailing. To mark the 100th anniversary of Shevchenko's death in 1961 and 150th anniversary of his birth in 1964, Keywan produced several portraits of the poet as a young man and at an older age, in oil and scratchboard, as well as a series of Shevchenko stamps. The Mazepa portrait and one oil and one scratchboard portrait of Shevchenko are presently in the Andrey Sheptytsky Musuem of Ukrainian Art in Lviv, Ukraine; others are found private collections, the University of Alberta Library, UBC Library and other locations. Other important Ukrainian political/historical figures depicted by Keywan using various techniques include Hetman Bohdan Khmelnytsky; Olena Kysilevska, Ukrainian senator in the inter-war Polish government; the Ukrainian Catholic Metropolitan Andrey Sheptysky; and the writer Ivan Franko.
Keywan's other oils dating from the 1960s include a portrait of his sister, Hanusia, who was living in Caracas, Venezuela, and an uncompleted portrait of his daughter, Zonia.  During this period, he also designed books covers for several writers, including his wife, Maria, the author of two novels.
From the 1970s, Keywan directed most of his energy to art history and critical writings. His artwork from this period includes scratchboard portraits of the poet Vasyl Lesych, of himself and of his wife (all now in the Andrey Sheptytsky Musuem of Ukrainian Art in Lviv), as well as several oil landscapes.