Brief Biography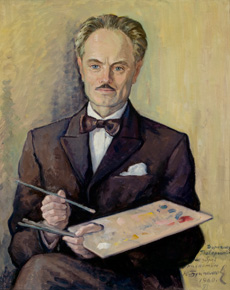 Ivan Keywan was born on September 16, 1907 in the village of Karliv (now called Prutivka) in Western Ukraine. He began his art studies at the O. Novakivsky Art School in Lviv, and continued at the Academy of Fine Arts in Krakow and the Academy of Fine Arts in Warsaw, from which he graduated in 1937. He also studied art history at the University of Warsaw and qualified as a teacher of art and art history. After his studies, he taught painting and drawing in Kolomea at the Ukrainian high school and technical school, while also pursuing an artistic career. Using pencil, oils and graphic techniques, he produced a number of portraits and historical and commemorative works. He designed book covers, documents, stamps and even banknotes for a projected Ukrainian currency, as well as sets and costumes for theatrical productions. As a member of several artists' associations, he exhibited his works, starting in 1933, in Warsaw, Lviv, different cities in Germany, Paris and Amsterdam. In 1943, he married Maria Adriana Krupska a physican, in Kolomea.
In 1944, he fled Western Ukraine in advance of the Soviet occupation. After the end of the war, he lived, with his family, in a displaced persons (DP) camp in Mittenwald, Bavaria. There he taught art and art history in the camp high school and at the People's University and produced many landscape paintings of the Alps. In 1949, Ivan Keywan, with his wife and two children, Orest and Zonia, immigrated to Canada and settled in Edmonton, Alberta.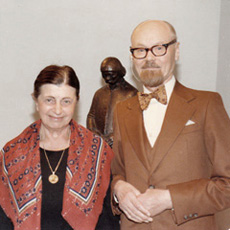 In Canada, Keywan continued his artistic work. A co-founder of the Ukrainian Artists Association (USOM) of Canada, he participated in the association's exhibitions, as well as other exhibitions in Edmonton, Saskatoon, Winnipeg, Toronto, Montreal, Detroit and New York. Increasingly turning his attention to art history and criticism, he authored countless articles for the Ukrainian press and published four monographs on Ukrainian artists, including Taras Shevchenko, the Artist (1964). For this work, he was awarded the Shevchenko Medal, the highest form of recognition granted by the Ukrainian Canadian Congress (KUK). He researched and wrote a two-volume history of Ukrainian art, of which only one section has been published to date, Ukrainian Artists outside Ukraine (1996). In 1967, Keywan received an honorary appointment as professor of art history at the Ukrainian Catholic University in Rome. In his later years, he did much to encourage younger Ukrainian diaspora artists by opening their exhibitions and writing reviews of their works.
Ivan Keywan died in Edmonton on September 18, 1992.